For Whānau
» SLT Awareness Week
KOTAHITANGA
Working together, in partnership, towards a common goal
18 – 24 September 2023
Speech Language Therapy Awareness Week is coming up on the 18th-24th of September! This year's theme is 'Kotahitanga', a Māori concept referring to working together in partnership towards a common goal. As part of awareness week, the NZSTA will be preparing a seven-day social media campaign, showcasing examples of SLT partnerships in the spirit of kotahitanga. We invite submissions from SLTs around the country, celebrating their partnerships. This could be with a client or patient, an organisation, or multidisciplinary based.
Submissions closed on Thursday 24th August.
Resources:
Awareness-Week-Resources/Awareness-Week-2023-A2-poster.pdf
Awareness-Week-Resources/Awareness-Week-2023-A3-poster.pdf
Awareness-Week-Resources/Awareness-Week-2023-Animated.mp4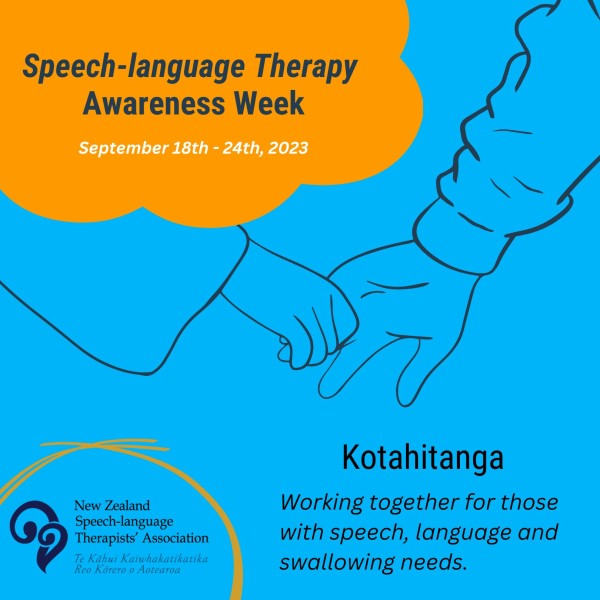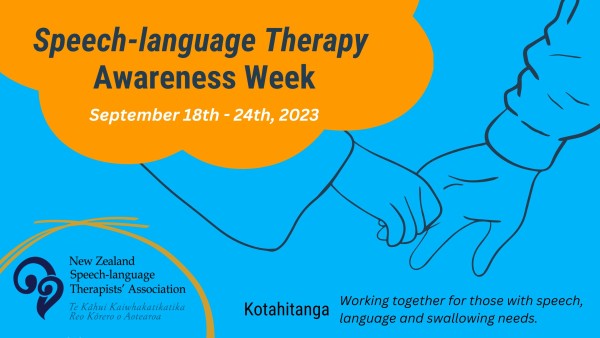 Previous Awareness Weeks
AROHA
Aroha mai, aroha atu
18 – 25 September 2022
#aroha
#NZSTA22
#payitforwardwitharoha
Aroha mai, aroha atu = Aroha received, aroha given.
After a couple of years of uncertainty and difficulties navigating a global pandemic, this year's theme could provide a much-needed pick-me-up! Let's show some aroha for our profession and everyone within it! Aroha means more than 'love'.
Many Māori kīwaha (phrases) like this one are small but broad and deep. It is based on life experiences and is value loaded. It is not an academic exercise and is hard to learn. It is simply who you are and how you do.
Aroha is expressed in many of the arts like waiata and is shown in so many ways. It is when you add your own view of love based on a memory with someone or something that triggers your emotions, and that is aroha. - good, bad or sad.
Dr Rangimarie Pere, in her book Te Wheke says, 'Aroha is an important concept in regard to the survival and true strength of whanaungatanga (kinship ties, extended family across all universes) … Aroha is not to be talked about; it is only meaningful when actioned … Caring for people and sharing is also quite commonplace for Māori people who have retained the traditions of old.'
What does aroha mean to you, and how can you reciprocate aroha to others?
Te wero to members: pay it forward with aroha
Congratulations to Polly Newton for the winning video entry - how many ways can you say Aroha.
You can watch the winning entry below and with other video uploads on our Facebook page.
Resources: