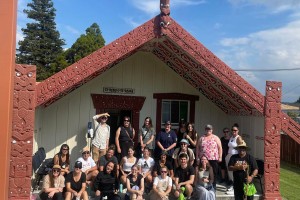 The benefits of the Māori SLT wānanga 2023
The Māori SLT wānanga was hosted at Kuirau Marae in Rotorua on 3 - 5 March 2023. This was the second annual wānanga, led by Māori and designed for Māori. The wānanga is for Māori SLTs and students, including NZSTA members and non-members.
Around 34 people attended this wānanga. Roughly half of the attendees were students, representing all three universities. The other half were SLTs working for MoE, special schools, kindergarten associations, universities, NGOs, community initiatives and private practices. They included NZSTA board members and people in leadership positions.
Keeping with the tikanga of our Māori SLTs rōpū, the three-day wānanga included plenty of opportunities for whanaungatanga and Māori kaupapa such as learning taonga pūoro in a culturally safe environment. We also organised informal kōrero on topics relevant to Māori SLTs, interspersed with plenty of waiata and katakata.
This short report highlights the benefits of this wānanga for employers of Māori SLTs and universities with Māori students.
It also details the benefits of the wānanga, as perceived by the attendees. It is based on spoken and written feedback from wānanga participants about what they enjoyed, what they learned, and their suggestions for the rōpū going forward.