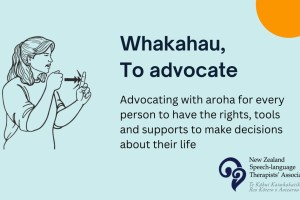 Looking for a speech-language therapist?  Good luck with that.
Speech-language therapists are the next health workforce 'cab off the rank' to be struck by growing staff shortages, a problem compounded by the likely closure of Massey University's Bachelor of Speech and Language Therapy programme.
Massey is one of only three universities in New Zealand offering a specific speech-language therapy degree entry programme.
The course trains, on average, 25 speech-language therapists annually, making it a valuable contributor to workforce development.
The university announced recently it may have to close the programme due to financial pressure.
Executive director of the NZ Speech-language Therapists' Association, Siobhan Molloy, says the possible closure will heap further pressure on an already struggling speech-therapy workforce.
"We are 10 per cent down now on staff across the profession. This will only make things worse."
Molloy says New Zealand has a tiny speech-language workforce compared to other countries.
New Zealand has almost two-thirds fewer speech-language therapists than the USA on a per-head-of-population basis and less than half that of Australia.
The Kiwi workforce comprises just 20 speech-language therapists for every 100,000 head of the population.
"Our workforce is scrambling now, just like other health professions," Molloy said.
"And cutting home-grown training places when demand for speech-language therapy services is so high – and climbing quickly - is very difficult to understand."
The Association has written to the Health Minister urging her to do more to support allied health workforces.
It also plans conversations with Massey to explore options for maintaining the threatened training programme.
"Doctors and nurses may be the most visible sectors under pressure, but that doesn't mean many other health professions aren't under just as much if not more strain," Molloy said.
Contact Daniel Paul at (021) 400-993 for further information.